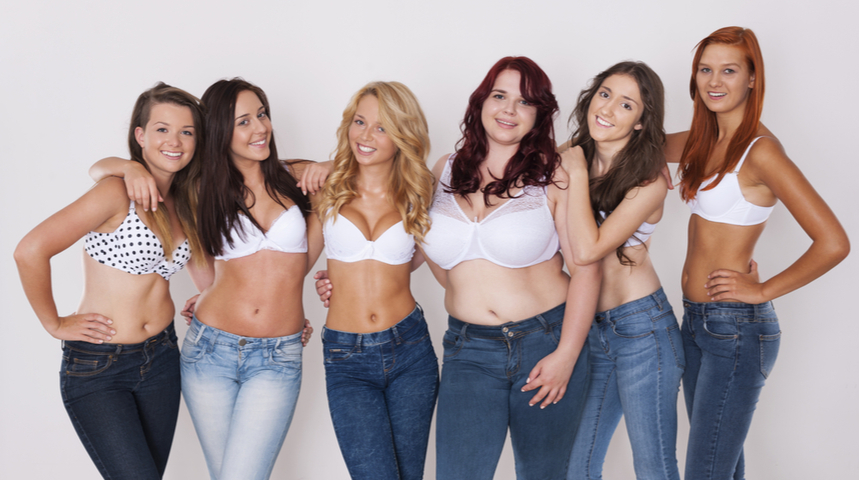 The Ultimate Guide to Buying The Right Types of Bra
One of the most essential things for a woman, yet something we often neglect, is choosing the right bra to wear. Admit it, we all have bras that are either too big or too small, too tight or too loose, either worn out or is just generally not a good fit, yet we still wear them. Its time to break this habit and start taking more care of one of the most sensitive parts of our bodies. This article will give you a complete guide to help you choose the perfect types of bra.
What to consider when buying the right types of bra?
Navigating through the wide array of bra options to choose from may seem a bit daunting. In order to make your search for that perfect brassiere, we narrowed it down to 3 key points to consider: the size, style, and material. Of course, there are other factors such as comfort, personal preference, etc, and we'll tackle these factors as we run through the 3 main key points.
Size
Choosing the right bra size is the most important thing to consider when going bra shopping, as this will determine the comfort level, breast support, as well as maintaining the overall good health of our breasts. So, to get your bra size, using a mirror and a tape measure, follow the steps below:

Wear a bra that fits you well. Pick the most comfortable, with the exact fit that you like.
To get your band size, Run the measuring tape through your underarms and over, or on top of your breasts, holding it firm against your body, but not too tight. If you get an odd number, just round it up.
To get the bust measurement, loosely measure around, up until the middle area of the breast, aligned where the nipples, and get the number.
Finally, to get the cup size, just subtract the band measurement from the bust measurement. For example, if your bust is 50 inches and your band size is 45, your cup size will be a 5, equivalent to "DD," so in your case, you'd need to shop for a 45DD.
Breast Chart:*
1″= A | 2″= B | 3″= C | 4″= D | 5″= DD |
6″= DDD & F | 7″= G | 8″= H | 9″= I | 10″= J |
11″= K

*note that these sizes may vary depending on your region or country.
Tips and reminders to get the right size:
Remember this phrase when shopping for a new bra, "when in doubt, try it out." There's no harm in trying the bra to see if it fits. Different body types may prefer a specific type of bra (which will get to in a while), so it's important to try it out to get your own personal preference.
The band is what mainly supports the breasts, so it's important to get it right. To see if you have the right band size, you must be able to snugly fit a finger between your bra and body. If it's too tight, then the bra is too small.
When fitting a new bra, use the end hooks, or the loosest row of hooks, as your bra will expand as time goes by.
Keep and mind that not all bra sizes may fit the same way, so make sure to still try them out first.
Your bra should not move when you lift your arms. If it does move, its probably because the band is too big or the cup is too small.
The "gore," or the center of your bra should lay flat on your sternum.
Wrinkling cups is a sign that the size of the cups may be too big. The size of your breasts should be just enough to fill in the cups.
Have a specific bra that is designed for the occasion or activity you'll be doing (refer to bra styles).
Put extra care in the look and feel of the bra. How it feels and looks would naturally determine whether it's too tight or too loose.
Take good care of your bras, and let your bras take good care of you. Remember, your breast size may change in time, so if you feel like its too loose or too tight, don't hesitate to change. Also, like anything in life, take good care of your bras and they will surely last longer.
Types of bra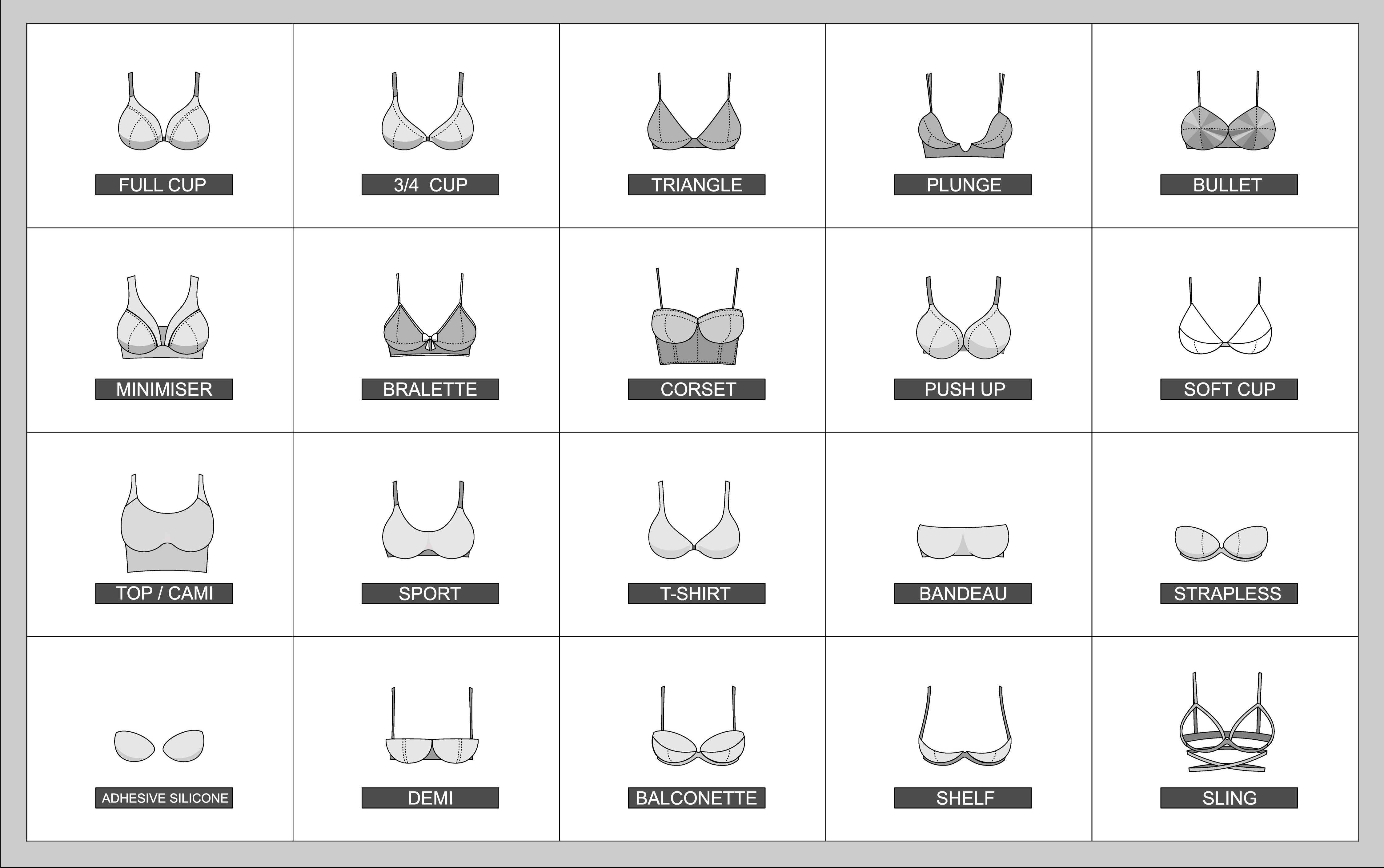 Padded Bra
The padded bra has extra padding in the cups, so that the nipples won't be seen when wearing tightly fitted outfits such as T-shirts. You can choose to buy an "underwired" padded bra for more support, or a wire-free one for more comfort.
Convertible Bra
If you're looking for a "one size fits all," or in this case, one bra for all outfits, then a convertible bra is what you're looking for. This type of bra has detachable straps that can be rearranged in multiple ways depending on your preference.
Balconette Bra
As the name suggests, this lingerie type of bra somewhat resembles the appearance of a balcony, due to the wide-set straps and cups. This bra gives the bust area a rounded look, and creates a gentle lift for the breasts.
Bralette
If you're more of a minimalist, then a bralette might do it for you. This type of bra is usually unlined, unpadded, wire-free, and can be styled as both underwear and outerwear.
Plunge Bra
A plunge bra allows you to wear deep-neck outfits, buy having deep center gore and cups that cut-away on the sides, slightly exposing the cleavage.
Mastectomy Bra
A practical choice for women who have undergone mastectomy without breast reconstruction, this type of bra is designed with silicone prosthesis pockets for each cup, as well as a feather-soft fabric that has an anti-microbial finish.
Minimizer Bra
A minimizer bra provides extra support, reduces the projection and circumference of the breasts, and creates a more proportionate look. This type of bra is for women with a larger breast size.
Cami Bra
This type of bra has a high neckline and full cups, designed to conceal the cleavage for deep neck outfits.
Cage Bra
A caged bra has a multi-strap designer back and neckline, for a combination of both style and support.
Push Up Bra
A push-up bra gives the breasts a bit of lift, creating a more defined cleavage and a fuller-looking breast area. This type of bra makes use of either foam or silicone gel on the underside of the cups to give the breast lift. Thy level of lift may vary from bra to bra.
T-shirt Bra
This type of bra was made for everyday comfort, with sufficient padding and designed to be undetectable under a t-shirt or other body-hugging outfits.
Strapless Bra
Don't worry it won't fall off, strapless bras were really designed to be functional even without the straps. Strapless bras have a strong wire under the band that gives the breasts the support it needs. The only thing to consider is that you need to wear the right size, because too small and it'll be uncomfortable, and too loose and it'll fall off. This type of bra is perfect for those off-shoulder outfits.
Bandeau Bra
For those looking for an easy to wear, "for home" bra then a bandeau bra might do the trick. This bra is like a cross between a strapless bra and a tube top, having no straps, no cups, and no fastenings. The Bandeau bra is simply a strip of stretchable fabric that gives minimal support but maximum comfort.
Sports Bra
If you're the sporty type, then a sports bra would be the perfect fit during your workouts! A sports bra gives you the support that you need especially for strenuous exercises. There are different sports bra options to choose from, such as padded sports bras, compression, pull-over or back-clasp sports bras. The fabric is also typically breathable to expel heat as you workout.
Maternity Bra
Also known as feeding bras, maternity bras are engineered to give the proper support, suitable for changing breast size due to pregnancy and lactation post-pregnancy. Some maternity bras, like the nursing bra, makes it easier to breastfeed by incorporating removable flaps that can be unhooked for easy breastfeeding.
No-Sag Bra
The no-sag bra not only gives the breasts the lift it needs, but also prevents future sagging. Using no-stretch, high strength fabric, the no-sag bra holds the breast tissue in place.
Longline Bra
A combination of stylish and functional, the longline bra has an extra-wide band for that sexy and slimming look, providing extra coverage below the bust, a few inches above the belly-button.
Material
When choosing a bra, we often put all the consideration in the size and type of bra, but we often neglect the material used. The material or fabric plays a vital role in maintaining the health of our breasts. During times that the bra feels uncomfortable even when we get the perfect size and style, it's probably the material used to make the bra that's causing the problem. In this part, we'll discuss the right material and fabric you should look for when choosing a bra, as well as how to better take care of them. But before we get to that, let's discuss first the bra materials to avoid:
Types of bra material/fabric to avoid:
100% synthetic bras – When a bra is purely synthetic, this may increase the risk of toxic chemicals entering the body by way of the breasts. Use bras that have a cotton fabric, or a mix of both cotton and synthetic.
Sticky bras – The adhesive used in sticky bras is not good for the skin as it may contain chemicals that may enter the body, and may even cause allergic reactions. Also, because of the sticky nature of the bra, the skin around the breasts don't get a chance to breathe.
Plastic bras – Aside from being uncomfortable, this type of bra has no breathability, and contains chemicals that may open-up areas for irritation and even rashes.
Bra fabric and materials:
Cotton
Good elasticity
Warm & soft
Highly Absorbent
Machine washable
Cold or warm water will do just fine
May be prone to wrinkling
May shrink 3% to 5% after constant washing
Wool
Soft and provides significant warmth
Has a somewhat "fluffy" feel to it
Sensitive to heat, must NOT be machine washed
Hand wash only with mild soap
Hang or flat dry only. Do NOT use a dryer
Silk
Very soft and shiny
A delicate fabric that is smooth to the touch
Dry-clean friendly
A gentle fabric that requires extra care
When hand-washing, use mild soap and cold water
Wash separately from other garments
DO NOT soak
DO NOT put in a dryer
When ironing, use low heat and put a towel in between the silk and the iron
Rayon / Viscose / Modal
Soft and shiny fabric
Sensitive to heat
Hand-wash with cold water and mild soap
May shrink by 4% to 7% after constant washing
Use cool iron to smooth-out creases
Tactel / Dacron / Lycra / Polyester / Elastane / Polyamides
A good combination with other fabrics like cotton, as it adds strength and durability
Very heat-sensitive, do not iron or put in the dryer
Does not easily crease